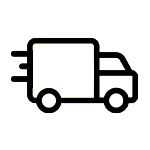 Shipping
Shipping by express courier is always free and delivery times are generally 2-3 working days.

We will send you an e-mail confirming the order, then another e-mail at the time of shipment that contains information on the delivery service and the tracking number.
If part of your order is not available for immediate shipment, your order will not be shipped until all items are available.